Transforming Community Development through Arts and Culture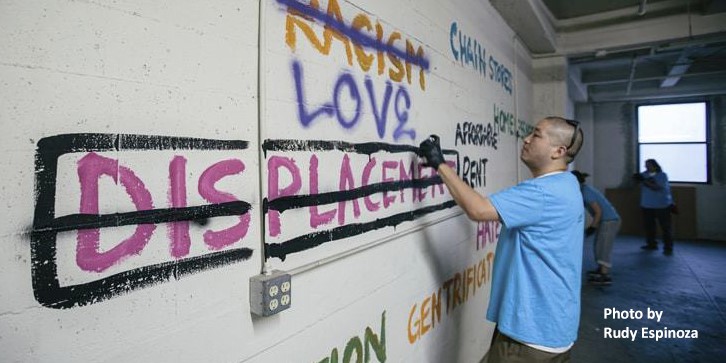 "Centering arts and culture within community development awakens us to what is already present in communities and amplifies resident voice and power," said PolicyLink President and CEO Michael McAfee in a statement announcing "Transforming Community Development through Arts and Culture," the latest issue of Community Development Innovation Review by the Federal Reserve Bank of San Francisco, and co-edited with PolicyLink and ArtPlace America.
The issue highlights how community development that infuses arts and cultural strategies helps residents reclaim community identity, strengthen cultural resilience, and build power—all key components of achieving equitable community development outcomes. It also explores changes and practices to the field of creative placemaking and provides new deep dives, perspectives, and analysis on the implications of this work for broad equitable development goals. Read the full issue here.
The issue features research and documentation from ArtPlace America's Community Development Investments (CDI) program. The CDI program was a significant three-year investment of resources and technical assistance in six community development organizations who had not previously worked with the arts and culture sector. These investments have yielded valuable insights and lessons for a wide range of fields of practice, from affordable housing development to parks stewardship, from the social practice of art to youth development, from community organizing to public health. With new tools and ways of thinking, imagining, and acting, they have helped residents own and express the identity of their communities, build cultural resilience, and change the ways in which neighborhood planning is carried out.
Read more about the issue on the National Endowment for the Arts's Art Works Blog or watch video from a release event held at the Federal Reserve Bank of New York.