Coronado Park Artist in Residency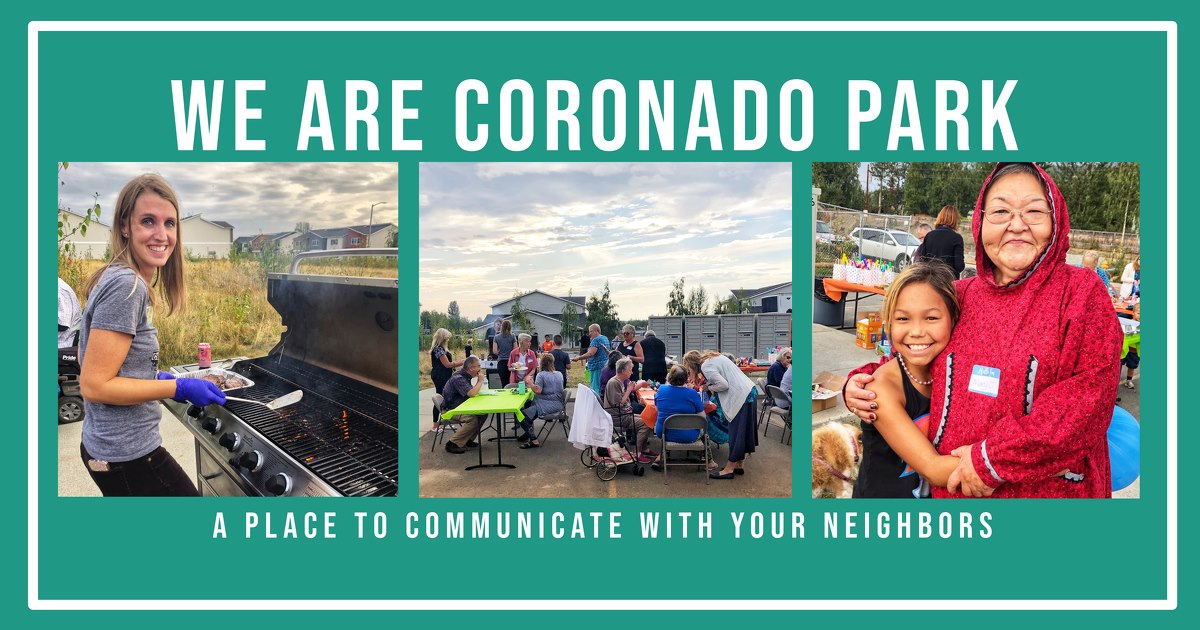 Cook Inlet Housing Authority owns and operates a variety of affordable and rental-market housing in the Coronado Park neighborhood of Eagle River. Coronado Park is a small neighborhood within walking distance of restaurants, grocery stores, a gym, a coffee shop, entertainment venues, and other local retailers. The neighborhood is envisioned to be a diverse, multigenerational community with residents ranging from young professionals and families to military families and retirees.
CIHA has engaged in a variety of community building initiatives in Coronado Park, such as resident engagement programming for senior residents and the construction of a new senior-friendly community park. In 2019, CIHA partnered with local artist Marie Acemah in a one-year artist-in-residency for the neighborhood. Throughout the past year, Marie has worked with CIHA staff to develop arts and culture- based interventions that activate residents to build community, neighborhood pride and neighborhood stewardship.
Marie has led a variety of successful community engagement activities in the neighborhood:
After attending various social events in CIHA's senior housing building and getting to know residents, Marie learned that they were interested in gathering to craft. She began monthly "Crafternoons," in which neighbors made cards, painted rocks, or brought their own crafts. The Crafternoons integrated senior housing residents with other intergenerational neighborhood residents through shared conversation and crafting. Neighbors connected organically by helping each other learn crocheting, painting, and sewing techniques.
 
At a July 2019 Community Picnic where neighbors were invited to share their feedback about the park plans, one woman requested a mini-library and others agreed that it would be a wonderful thing to have. Marie followed up the next month by ordering a pre-built mini-library and engaging neighbors in painting it. She also participated in a ribbon-cutting celebration after its installation.
 
Currently, one of Coronado Park's roads is named Conquistador Drive. Given the history of conquistadors in the Americas, CIHA doees not believe that this name aligned with their values as an Alaska Native housing authority. Marie worked with CIHA staff and Iñupiaq cultural bearer Alice Qannik Glenn to engage residents with a street name change petition for Conquistador Drive. They visited residents, passed out flyers, and facilitated a community conversation in which residents discussed the need for an alteration of the current "Conquistador" name. Meeting attendees democratically agreed on the proposed new name, Qintali Drive, which means "wide ridge" and is how the Dena'ina have historically referred to nearby Mount Baldy. The new name will honor the Dena'ina stewardship of the land and our many Alaska Native residents, creating a more meaningful sense of place and making the community more welcoming and livable. CIHA is continuing to work with the Municipality of Anchorage on the name change process and intends to include interpretive signage in the new community park explaining the meaning of the name.
 
Coronado Park's new senior-friendly park will offer accessible community gardening beds, a garden shed, a play area, accessible benches and tables, and green space that will encourage neighborhood residents to engage, interact and embrace healthy lifestyles. Upon the park's completion in fall 2020, Marie will invite seniors to creatively personalize the shed by creating artistic tiles to decorate its walls. She also plans to invite residents to paint bird houses that can be scattered throughout the park, so their art is integrated into the park. Engaging neighborhood volunteers to decorate the park will create a more long-term sense of place, stewardship, and community building in the neighborhood.