Interrupting the School-to-Prison Pipeline through Cultural Organizing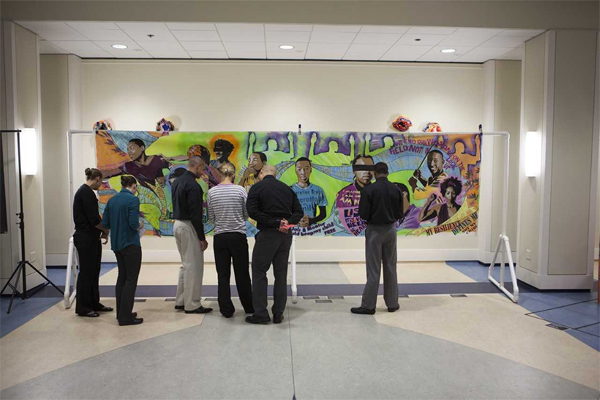 Pop-up gallery of art created in collaboration with artist Kate DeCiccio by youth in Richmond, VA.
(Photo Credit: Performing Statistics)

To truly achieve equitable public safety, we must reduce the harm of policing while building up the infrastructure we need to keep all communities — including communities of color — safe and thriving. Informed by our past efforts to advance community-centered policing, PolicyLink works to dismantle institutional barriers to police accountability by advocating for structures, policies, and assessments that increase police accountability and decrease criminalization and mass incarceration. We also advocate to rightsize the role of law enforcement by challenging untested assumptions about the value-add of law enforcement, working with community advocates to shift funding away from policing and jails to address the root causes of poverty and violence, and supporting community-led alternatives that can fulfill police functions in a safer, more effective way. 
Our close partnership with Performing Statistics was one example of our work toward advancing these priorities. Performing Statistics is a cultural organizing project promoting the perspectives of young people involved with the juvenile system to help reduce and improve interactions with police and to work towards police-free schools.
Performing Statistics was created in Richmond, VA in 2014 by artist Mark Strandquist in collaboration with ART 180 — a creative youth development nonprofit — and Legal Aid Justice Center. In July 2019, the project became independent and is now fiscally sponsored by Social and Environmental Entrepreneurs. Over the course of five years, the program has connected incarcerated youth with artists, advocates, and legal experts and the broader youth justice movement in Virginia.
(see images of the youth-created art from the Performance Statistics pop-up gallery)
Performing Statistics uses cultural organizing as a key strategy to destroy stereotypes, create counter-narratives, and disrupt the racism embedded in the juvenile justice system. The project targets three main systems: education, law enforcement, and juvenile justice, and it centers the perspectives of youth and families who are most impacted as experts on transforming those systems; dismantling the school-to-prison pipeline; and making communities just, safe, and whole.
With support from the Kresge Foundation, PolicyLink worked with Performing Statistics from 2016-2018, providing resource support and acting as a thought partner to move the needle on translating its youth-centered training of the Richmond Police Department into long-term, structural policy change, including proposing better data collection and reporting on interactions between police and youth by the Richmond Police Department. The ongoing training — provided to every officer in the department — combines empathy building, trauma-informed approaches, family perspectives, and avenues for police officers to identify ways to disrupt the school-to-prison pipeline.
"Our work with the Richmond Police Department is a bit like triage versus surgery," says Performing Statistics Project Director Trey Hartt. "We ultimately want a world without cops in schools, where young people are no longer criminalized the moment they step outside their door, but we also recognize that in the short-term cops aren't receiving any training on youth development, youth engagement, trauma-informed approaches, and the long-term impact on their decision to arrest. PolicyLink is helping us marry those two needs, so we don't lose sight of the long-term policy change goals."
PolicyLink also brought Performing Statistics into a cohort of arts and culture organizations focused on achieving policy change. The cohort met several times, including at a Design Dash focused on supporting Philadelphia's Village of Arts and Humanities and at the PolicyLink Equity Summit in April 2018.
But the learning went both ways, with Performing Statistics modeling strategies that leveraged the relationship between arts, culture, and policy. For example, Performing Statistics unveiled a pop-up gallery of youth-created art and storytelling near the state capitol building for an audience of legislators. According to Performing Statistics Creative Director Mark Strandquist, "Story has the power to transform individuals and communities. Our work with teens in the system is about bringing decision-makers along the school-to-prison pipeline more proximate to the stories and ideas of young people who are most impacted by their decisions."
Our work with Performing Statistics also reinforced the value of stories' power to move hearts and minds. Dramatically shifting the narrative about policing will be necessary to dismantle institutional barriers to police accountability and to right-size the role of law enforcement. Inspired by Performing Statistics, PolicyLink is partnering with artists and people from communities most impacted by over-policing, surveillance, and police violence to shift public dollars from policing toward things that truly keep people safe: investment in basic resources, like food, education, housing, green jobs, and healthcare. 
Given its creative, community-centered, and ambitious approach, Performing Statistics will undoubtedly be successful going forward as it continues to expand its national presence and works to translate its police training into bold, structural impact aligned with PolicyLink goals: removing police from schools, dismantling the school-to-prison pipeline, and closing youth prisons.
For more information, please contact Anand Subramanian or Trey Hartt.