Equity Is the Driving Force: How Advocacy Led to Oakland's New Cultural Development Plan
By Francis Yu, PolicyLink Arts & Culture 2018 Intern
The Oakland Creative Neighborhoods Coalition (OCNC) – which brings together cultural organizations, neighborhoods, artists and residents of color – has accomplished many feats in the few years of its advocacy and community organizing in Oakland, a city that locals proudly refer to as "The Town." From being an integral component in budget wins that led to the hiring of Roberto Bedoya, the city's first cultural affairs manager in fall 2016, and increasing grants funds for local artists and organizations last summer, OCNC has proven to be a critical community voice and has won on several equitable arts and culture policies in a city that has been lacking in such policy work for more than a decade.
On September 17, the City of Oakland released Belonging in Oakland: A Cultural Development Plan, in addition to announcing a restructured and expanded arts grant program, approving 80 projects totaling over $1 million.  The plan, one of OCNC's original policy goals it identified several years back, is a guiding framework that centers on a cultural equity lens in developing policy, apparent in its tagline: "Equity is the driving force. Culture is the frame. Belonging is the goal." Through this framework, both community groups and city officials can design policies and interventions rooted in equity – just and fair inclusion for all. Anyka Barber, co-founder of the Oakland Creative Neighborhoods Coalition, adds that, "cultural equity is going to be about making sure that equitable implementation happens."
Below is a diagram that shows the process of how Oakland's civic leaders, advocates, and residents informed the development of the plan.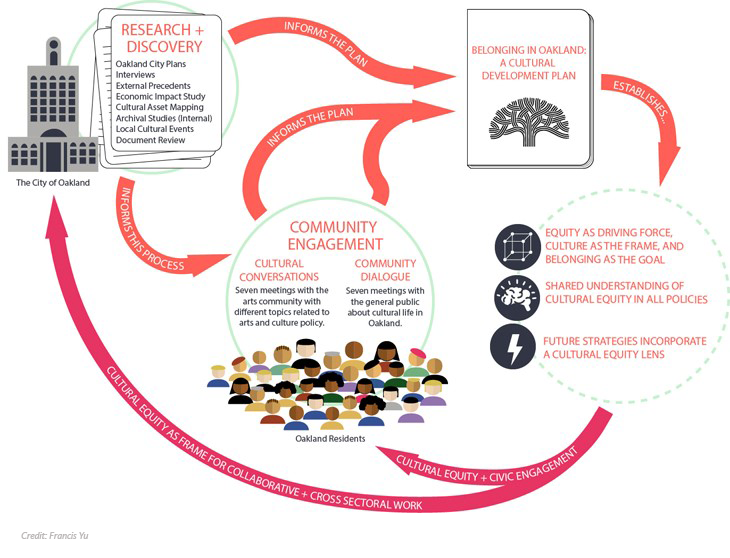 A unique and defining feature of Oakland's cultural plan is its purposely broad nature: by looking at how cultural equity applies to broader policy areas, strategic development of specific policies and programs would center and consider its effects on the culture and identity of Oakland's residents. "The goal of this plan was to bust the framing of culture within policies wide open, to not see it in a narrow way," says Vanessa Whang, who authored the plan under Bedoya. She emphasized the importance of looking at "culture as ways of being," which has broader implications on the cultural aspects of other city agencies and departments.
This was an important organizing principle for OCNC in that this frame values culture as critical to one's identity and broadens their advocacy efforts to the community at-large, who feel the city's culture is under threat as Oakland experiences rapid change. "The displacement of culture and knowledge – cultural entities, churches, spaces – are part of a systemic erasure of community," states Barber. The threat of this change is critical to the formation and the work around arts and culture that OCNC has undertaken.
As OCNC moves to its next chapter, a cultural development plan that centers on cultural equity provides a shared language communicating the importance of culture as OCNC strengthens its relationships with other advocacy organizations such as ReFund Oakland, a multisector coalition that organized around the City of Oakland's budget and was integral to OCNC's policy wins. OCNC is also currently advocating for the re-establishment City of Oakland Arts & Culture Commission, which has been inactive since 2014.
Funding from The Kresge Foundation and support from PolicyLink has supported the work of the Oakland Creative Neighborhoods Coalition. PolicyLink has provided capacity and technical assistance in helping prepare OCNC leadership to develop, frame, and organize their policy agenda;  prepare for meetings with elected officials; and build and support their communications strategies. Additionally, Leon Sykes, who helps in the operations of OCNC, emphasized the role of OCNC's presentation to the 2018 PolicyLink Equity Summit. "It was important in helping us realize just how much work we've accomplished."